How much does an illustration cost?
Price wise there are many factors including complexity of project, duration of use and how the illustration is going to be used. The more information you can provide in your initial email and/or design brief, then the more accurate a cost I can provide.

How quickly can you create work?
As quick as possible but it is dependent on the complexity of the project or other projects I may be working on. If you want a single image that's quite simple with a possible few changes then you will be looking at a few days. More complex briefs will take longer.

Wholesale & Retail
Q. Do you accept wholesale orders?
A. Yes! Please contact me to discuss the products you would like to stock.

Q. Can I stock your work in my shop?
A. Yes! I already stock my work in various locations in the UK. Please get in touch to discuss the products you wish to stock.
Q. Are up your designs available for license?
A. Yes! Please contact me to discuss.


Commissions & Personalised illustrations
Q. Do you do custom logos, headers and designs for small businesses?
A. Yes! Contact me to discuss this. I love working with start ups and small businesses. Special discounts available! Just ask and I will see what I can do for you.
Q. I've written a book, can you illustrate it?
A. Yes! I work with self published writers, as well as publishers. I understand how difficult it is for writers to get their work picked up by publishing houses and self publishing is incredibly popular, and successful. Contact me to discuss this.
Q. What changes can I make?
A. I want you to be ecstatic, delighted and excited when you see the final work so I will try and keep you briefed throughout the process. Most clients are happy with a few photos of sketches at the initial design stage, and then a few more as the piece progresses. Alterations will affect the timescale of the piece being completed, so it is important to make changes at the initial sketching stage. I cannot make changes to the design after this stage.
Q. Can I visit your studio?
A. Studio visits can be arranged to view work/collect work. Studios are not open to the public as it is a working environment. Please check my social media sites regularly to see when events are scheduled.
Q. Can I interview you for my zine/blog/podcast?
A. Absolutely! Feel free to contact me and send some questions and I will do my best to accommodate your requests.
Do you have a question that still needs answered? Please get in touch if you need more information or wish to discuss a commission.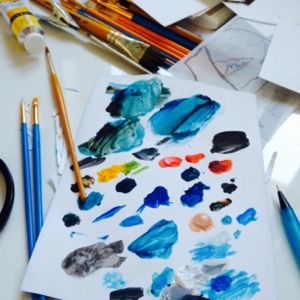 I retain the copyright to all work at all times.
Images must not be reproduced at any time for commercial and/or profit purposes unless prior agreement has been negotiated and agreed.
Social media is an everyday part of life for most. I understand that you may want to take some pics your lovely piece of work to show your friends and family. Please credit me as the artist when you post any photos. By doing this it encourages people to support local artists, creative industries and helps us to keep creating artwork. Please use #brawillustrations on Facebook or tag me @brawstudio on Instagram.
Please contact me using the contact page if your question isn't listed above.
Contact Braw Illustrations
Please complete the form below and click the Send button to get in touch with us.
Thank you for submitting the contact form.