Do you have a question that you need answered? Please get in touch if you need more information or wish to discuss a commission.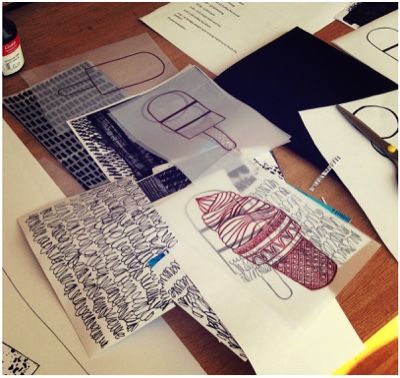 Personalised illustrations & artwork
Q. How long will it take for my personalised illustration and/or artwork to be created?
A. All illustrations are handmade to order just for you and every piece will vary in timescale depending on its complexity. I do aim to complete within 10-14 working days. If you are in a hurry for a personalised illustration please contact me and I will see what I can do.
Q. What changes can I make?
A. I want you to be ecstatic, delighted and excited when you see the final work so I will try and keep you briefed throughout the process. Most clients are happy with a few photos of sketches at the initial design stage, and then a few more as the piece progresses. Alterations will affect the timescale of the piece being completed, so it is important to make changes at the initial sketching stage. I cannot make changes to the design after this stage.
Press & Media
Q. Can I contact you about your design and involvement in Oor Wullie Big Bucket Trail 2019 or Tick-Tock Penguin Parade 2018?
A. Absolutely! Wullieosaurus captured Dundee children's imagination. Wullieosaurus raised £4000 at auction for Archie Foundation Tayside in September 2019. Tick-Tock was purchased by The Wellgate Shopping Centre and he currently keeps an eye on everyone who walks through the centre.
Q. Can I interview you for my blog or podcast?
A. Absolutely! Feel free to contact me and send some questions and I will do my best to accommodate your requests.
Commissions
Q. Do you do custom logos, headers and designs for small businesses?
A. Yes! Contact me to discuss this. I love working with start ups and small businesses. Special discounts available! Just ask and I will see what I can do for you.
Q. I've written a book, can you illustrate it?
A. Yes! I work with self published writers, as well as publishers. I understand how difficult it is for writers to get their work picked up by publishing houses and self publishing is incredibly popular (and successful) now. Contact me to discuss this. I work on a royalty system when you are unable to make an advance payment for illustration services.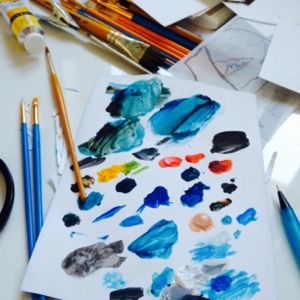 General Information
Copyright
I retain the copyright to all work at all times.
Images must not be reproduced at any time for commercial and/or profit purposes unless prior agreement has been negotiated and agreed.
Social media is an everyday part of life for most. I understand that you may want to take some pics your lovely piece of work to show your friends and family. Please credit me as the artist when you post any photos. By doing this it encourages people to support local artists, creative industries and helps us to keep creating artwork. Please use #karenmacallister #brawillustrations on Facebook or tag me @missarty on Instagram.
Delivery
Delivery will be made by Royal Mail Recorded Delivery for all personalised illustrations and/or artwork and a signature will be required on receipt of delivery.
Smaller items such as cards and prints will be sent 2nd class Royal Mail.
In the unlikely event that your illustration or artwork arrives damaged please contact me
Please contact me using the contact page if your question isn't listed above.
Please complete the form below and click the Send button to get in touch with us.
Thank you for submitting the contact form.